DAY 01: Airport / Negambo
Arrive to Colombo International Airport and meet Explore Lanka Travels agent at the airport arrival lobby.
Negombo is a coastal city on the West Coast of Sri Lanka. It is famous as a fishing hub. Thus so many traditional fishermen live in Negombo. It is a tourist attraction. The city is so lively with a number of different restaurants, shops, pubs & hotels. The beach road is the ideal place for hanging out.
Explore Negombo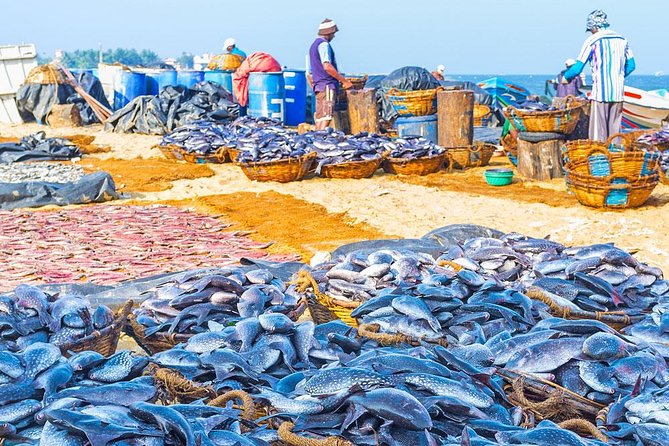 Being a coastal town, Negombo is housed to thousands of fisherman who actively take part in fishing on a daily basis. The excess catch is Being dried & preserved using indigenous technologies. One can visit the area where locals are busy with drying fish & packing them. Well the smell is a part of the experience.
Day 02: Negombo / Anuradhapura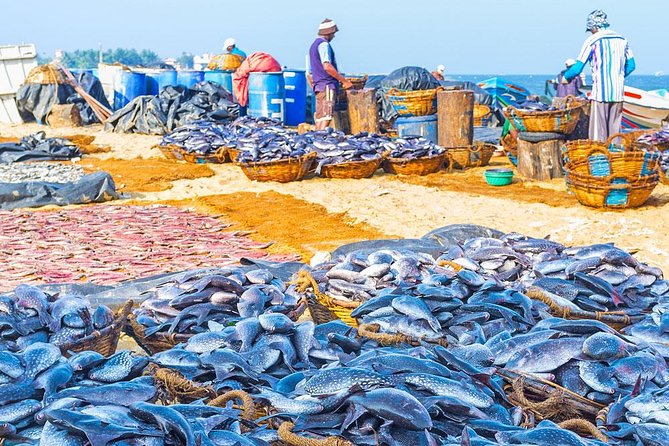 Being a coastal town, Negombo is housed to thousands of fisherman who actively take part in fishing on a daily basis. The excess catch is Being dried & preserved using indigenous technologies. One can visit the area where locals aVisit Anuradhapura the first capital of Sri Lanka which is a UNESCO world heritage city. Anuradhapura was once a very wealthy monastic city which created a unique culture and a great civilization. British explorers discovered this lost city in the 19th century. Visit many historical and archaeological important places at Anuradhapura such as the Sacred Bo-tree (Sri Maha Bodhi), the right branch of the secret Bodhi tree where Buddha attained enlightenment and one of the oldest historically documented trees in the world, Ruwanweliseya which was built by King Dutugemunu (one of the greatest stupas in the world). This magnificent huge Dagaba which is 103 meters in height and 287 meters in circumference was built in the 2nd century B.C, the Brazen Palace (dated back to the 2nd century B.C) a magnificent multi-storied residence built for monks, Samadhi Stature (A stature in the position of deep meditation) which is the most famous statue at Anuradhapura and Isurumuniya which is the most famous beautiful rock carvings.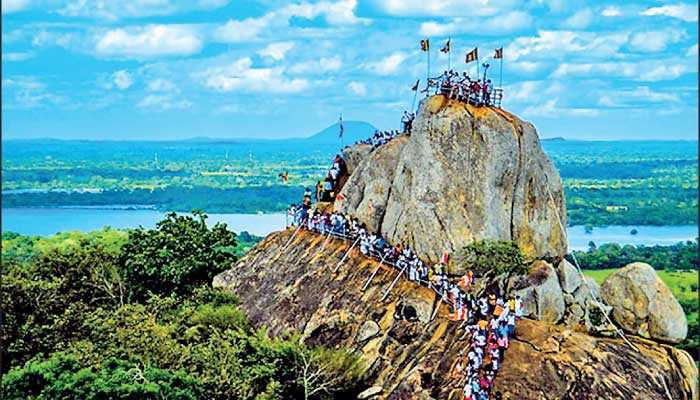 Mihintale is a mountain peak near Anuradhapura in Sri Lanka. It is believed by Sri Lankans to be the site of a meeting between the Buddhist monk Mahinda and King Devanampiyatissa which inaugurated the presence of Buddhism in Sri Lanka. It is now a pilgrimage site and the site of several religious monuments and abandoned structures.
Overnight stay in Anuradapura.
DAY 03 : Anuradhapura/Habarana
Do a jeep safari in Minneriya National park. The park covers an area of 8,889 hectares giving a home to 160 species of birds about 25 species of reptiles, 26 fish species, 09 amphibians, and more than 78 butterfly species. A park is an ideal place for elephant and leopard watching
DAY 04 : Habarana / Polonnaruwa / Habarana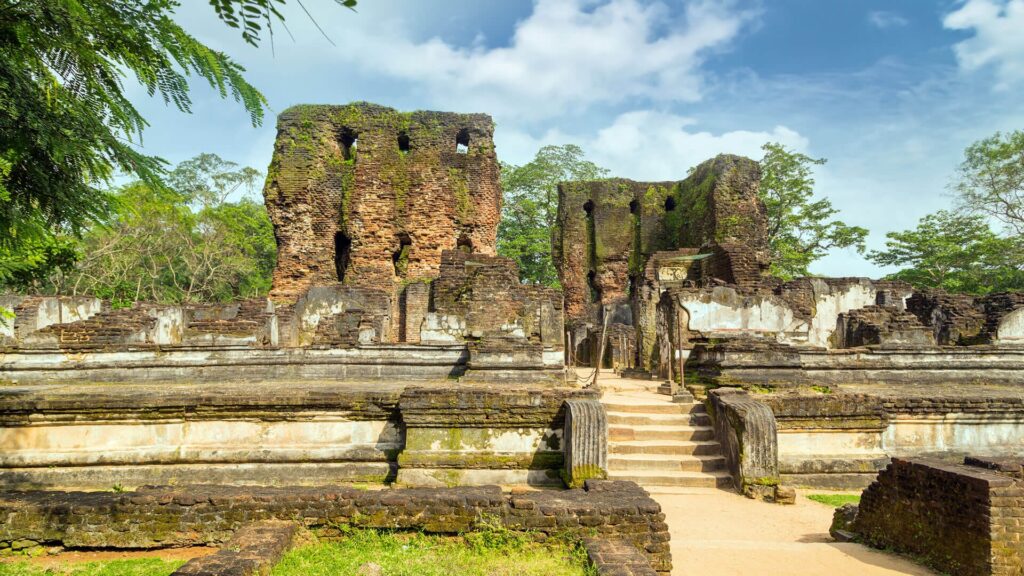 Visit Polonnaruwa the second capital of Sri Lanka from 1017 A.D to 1235 A.D. Polonnaruwa is also a UNESCO world heritage city. You will be able to see the ruins of Royal Palace king Parakramabahu, Audience Hall, the statue of King Parakramabahu, Watadage, the Galpotha, Parakrama Samudraya (Sea of Parakrama) which was built by King Parakramabahu I, covers an area of 5940 acres and the elegant Lotus pond was built in the 12th century. There is also a famous monument of worship such as the Gal Viharaya which has 4 magnificent carved Buddha statues, Kiri Vehera (the remains of a former Temple of the Tooth Relic) and Shiva Temple.
DAY 05 : Habarana / Matale / Kandy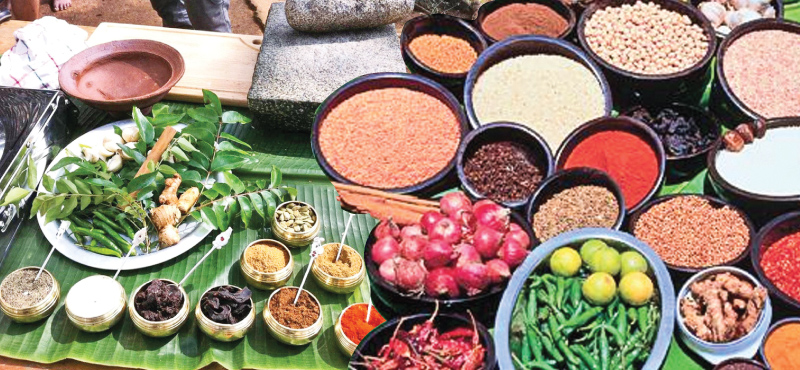 Visit a spice garden in Matale to see the different spices for which Sri Lanka is famous. Clients will be able to see different spices and how some of these spices are grown and processed. Witness Cookery demonstrations as well.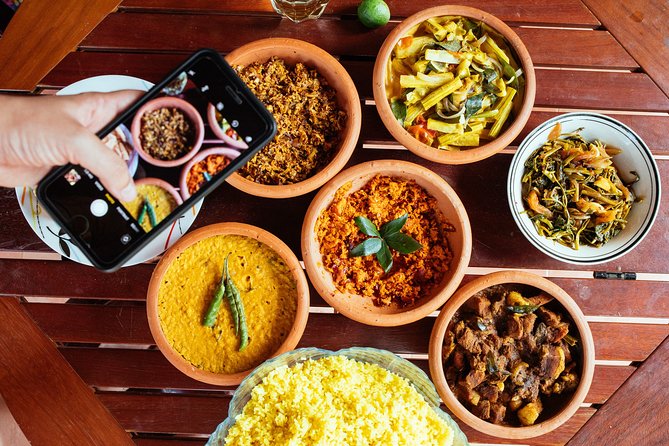 This culinary tour is an ideal way by which the discerning traveller can immerse himself or herself in the history and the ethos of Sri Lanka, its people and their customs and of course most importantly their food. You can learn about Sri Lankan spices and various Sri Lankan cookery methods.
DAY 06: Explore Kandy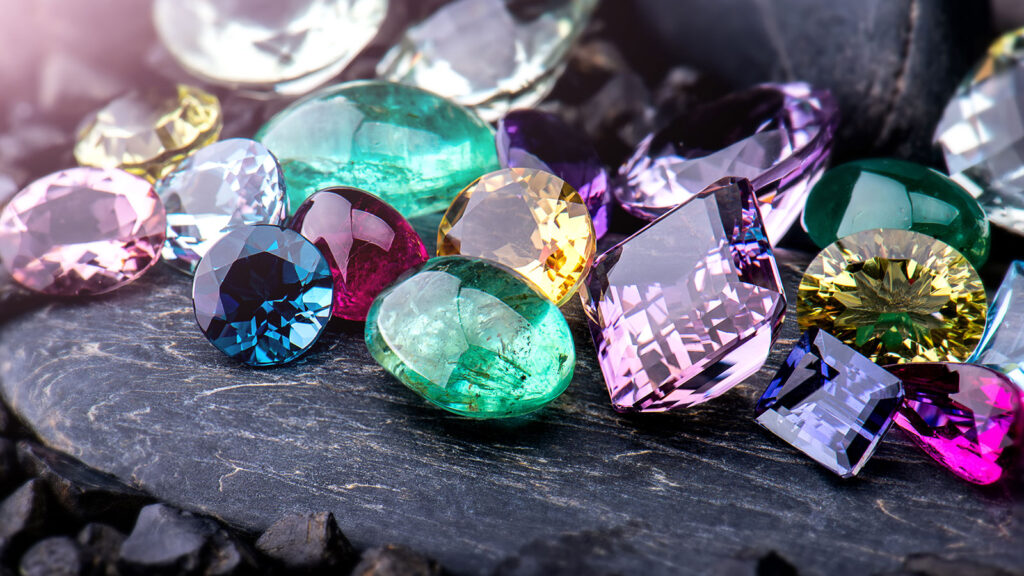 Sri Lanka is world-renowned for its precious & semi-precious Gems. Especially the Sri Lankan Blue Sapphire. It is very unique & owns a huge reputation in the world. Clients could visit a Gemological Museum, a gem cutting factory & also can witness a documentary on Gem mining & the process. Later you can shop for Gems, Jewelry & Other ornaments. Don't forget to collect your authenticity certificate for gems.
Visit the Silk Garden. Clients will be shown the process of making silk & how the handloom sarees are been made in Sri Lanka. The ladies will be given a chance to wear a traditional Sri Lankan saree & it is an ideal opportunity to experience the Sri Lankan dressing culture. You can shop for Silk items, sarees, sarongs, shirts & many other beautiful materials according to your choice.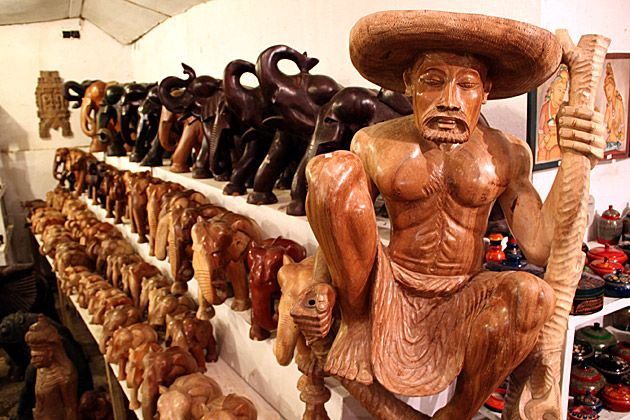 Wood carving is a traditional industry in Sri Lanka. Believed to have emerged in the ancient temples, the traditions & the techniques were passed from one generation to another. Today some of the wonderful craftsmen who belonged to such generations are still engaged in the field. They create wood carvings, statues, furniture, traditional masks, sculptures, handy craft, paintings and various other products of the same nature. A visit to a wood carving centre involves in the learning of these ancient traditions & one could make purchases as well.
DAY 07 : Kandy / Ramboda / Nuwara Eliya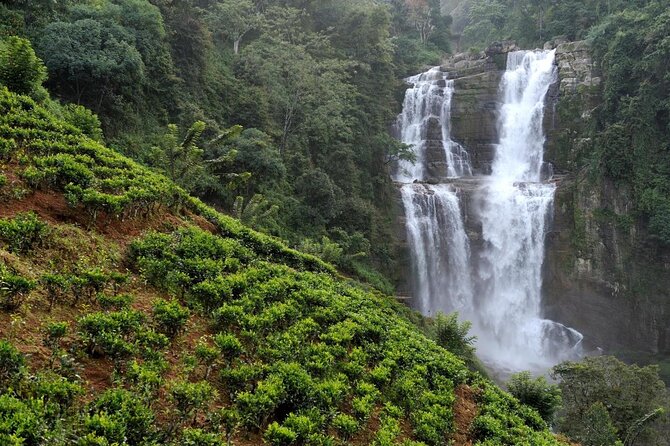 Ramboda is a breathtaking natural beauty. There are two prominent waterfalls next to each other. Clients could take pictures & enjoy the view from a view deck.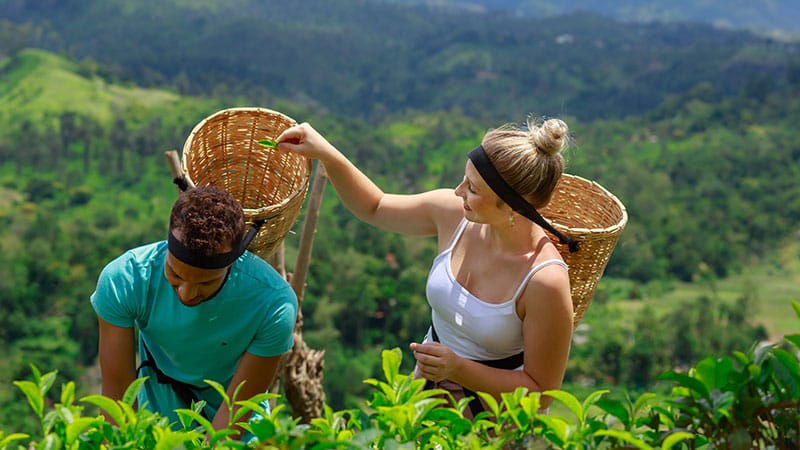 Sri Lanka is world-famous for Ceylon Tea. Clients will be shown a tea plantation & a factory. You will be able to witness the processing of Tea & also taste a cup of nice & hot Ceylon Tea. You can buy various different Tea products from the Tea shop.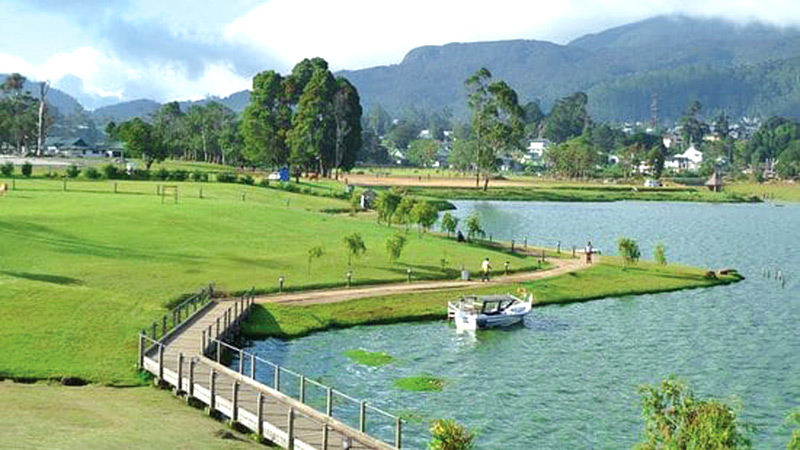 Nuwara Eliya is located at the heart of the hill country 6182 feet above sea level. The town is situated at 74 km away along Kandy-Nuwara Eliya road and this was rediscovered by the British in 1827. It is still very much like an old English town with styled Bungalows and buildings. The cool calm climate, gorges rolling tea plantation which makes the best "Ceylon tea" and the breathtaking beautiful waterfalls makes Nuwara Eliya one of the most beautiful towns in the world. Nuwara Eliya also has one of the finest 18-hole golf courses in South Asia. You can visit the Golf Club, Strawberry Farms & pick some strawberries. You can take a nice evening walk around the Gregory Lake. Visit the beautiful clubhouse & Have a hot & a nice cup of Ceylon Tea Do a peddling boat ride.
DAY 08 : Nuwara Eliya / Ella / Katharagama / Yala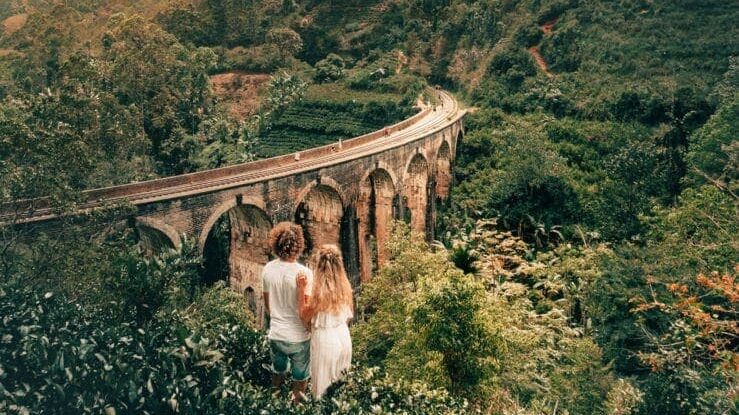 Ella is only a small village located high in the mountains. Most visitors to Ella only spend a couple of days there. The other nice thing about Ella is the climate. Hot during the day and nice and cool at night. If you fancy climbing the peaks that are dotted around Ella, then make sure you take sun protection and water!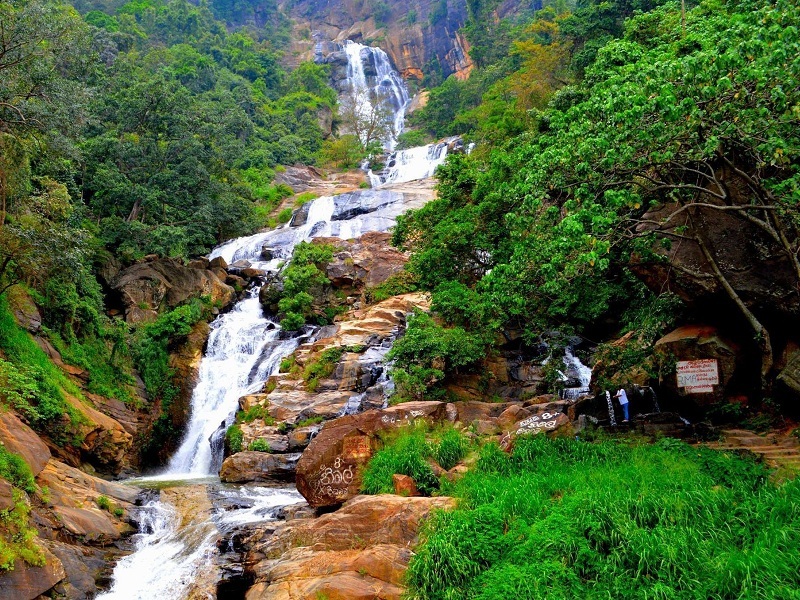 The Ravana Falls (popularly known as Ravana Ella in Sinhala) is a popular sightseeing attraction in Sri Lanka. It currently ranks as one of the widest falls in the country. This waterfall measures approximately 25 m (82 ft) in high and cascades from an oval-shaped concave rock outcrop.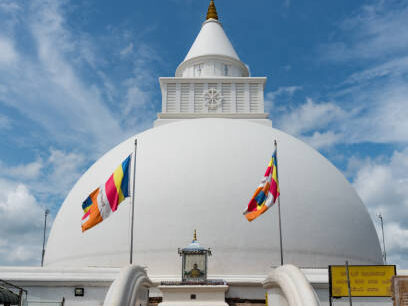 Considered a holy city by Buddhist, Hindus & Muslims Kataragama is most definitely a place for pilgrims. The location has paid a huge part in the life of King Dutugemunu who managed to unite the whole of Sri Lanka during a time of uncertainty under Indian invasions. It is famous for the Kataragama Devalaya dedicated to God Skandha & you can also visit the Kiri Vehera Stupa which stands as an epic part of our proud nation.
DAY 09 : Yala /Galle
Yala National Park is the second-largest national park in Sri Lanka and Is the most visit The Park consists of 05 blocks. Only two are now open for the public.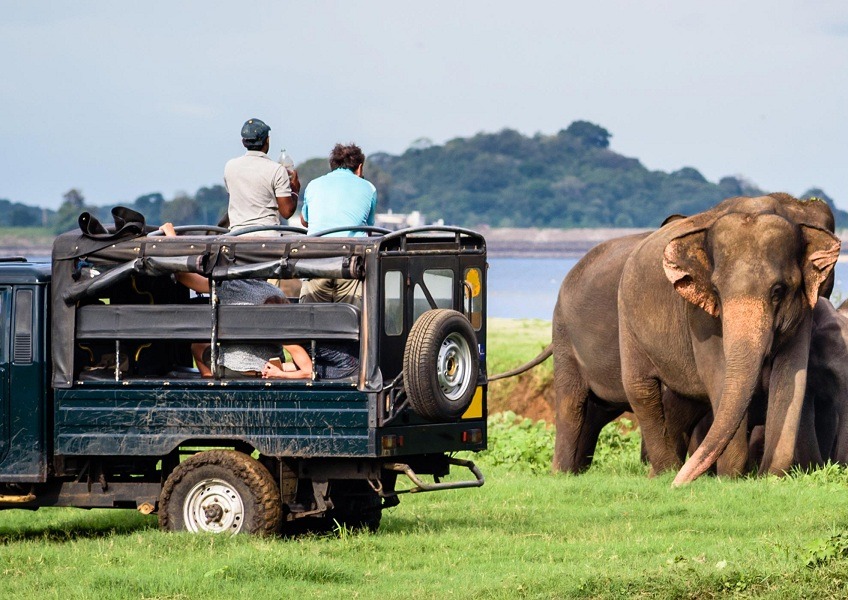 Do a jeep safari at Yala National Park, Stated about 309 km from Colombo Yala National Park is treated as one of the premier tourist destinations of Sri Lanka. The park is very popular for Jeep Safaris among local and foreign tourists Park is home to elephants, spotted deer, barking deer, sloth bear, wild buffalo, and wild boar. More than 120 species of birds are living in the park.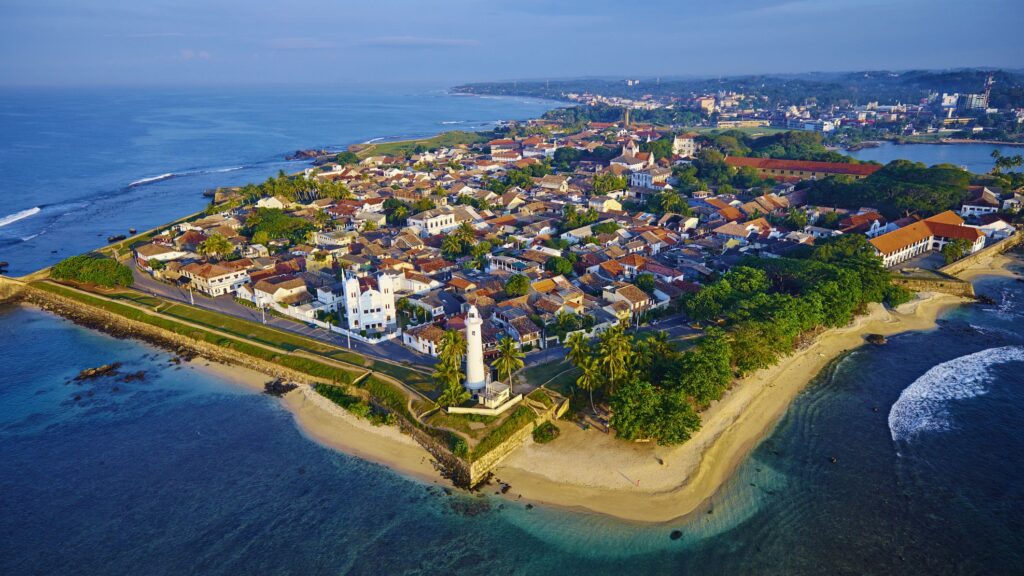 Galle was the main port of Sri Lanka from the 14th century. The first fort of Galle was built by Portuguese. Walk along the walls of the fort enjoy the magnificent view of the ocean and do not forget to watch the sunset which gives you an astonishing view from the walls of the Galle fort.
DAY 10 : Galle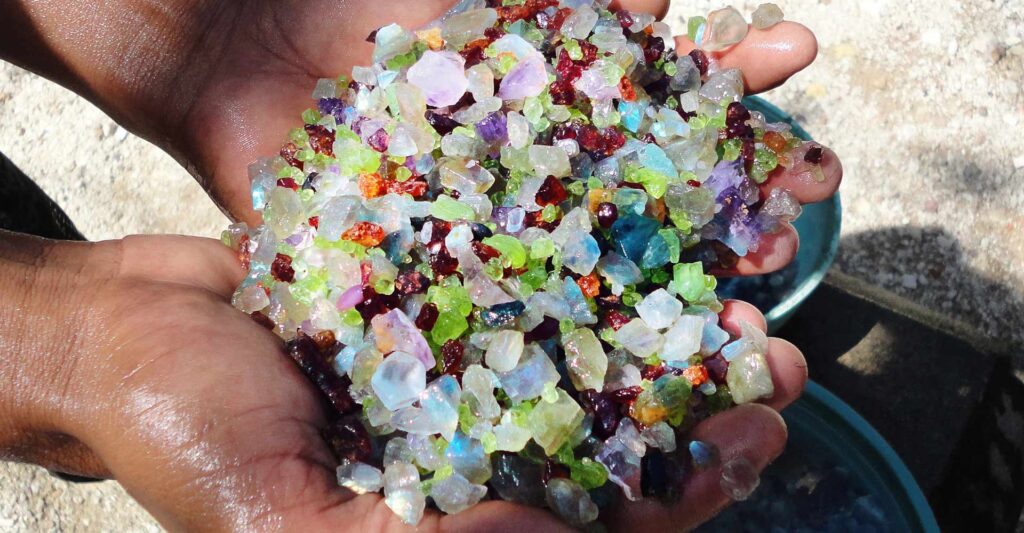 Visit Meetiyagoda the world-famous land for its Moonstones. You can visit a real gem mine & observe the process. The workshop & the Gem museum is a real attractions. The option of purchasing jewellery made out of moonstones is a possibility.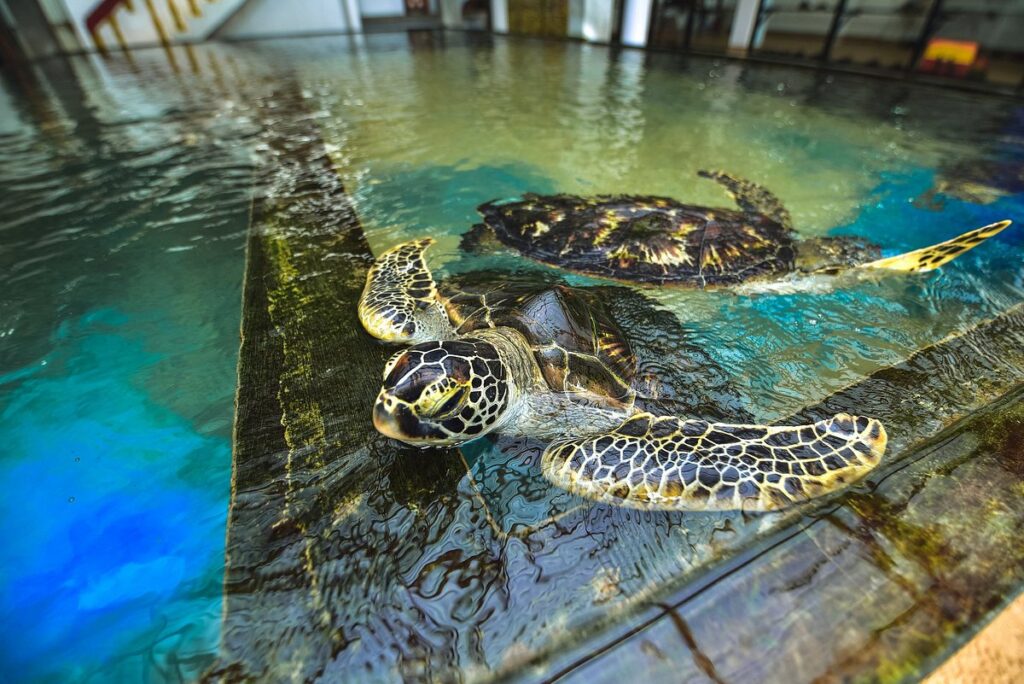 There are five varieties of Sea Turtles found in Sri Lanka, namely Olive Ridley Turtle, Loggerhead Turtle, Green Turtle, Hawksbill Turtle, and Leatherhead Turtle. The all major nesting habitats are located in the Galle District (Bentota, Induruwa, Kosgoda, Thibbattawa, Ahungalle, Balapitiya and Unawatuna) and Hambantota District.
DAY 11 :Galle- Hikkaduwa
Hikkaduwa is a small town on the south coast of Sri Lanka located in the Southern Province, about northwest of Galle and south of Colombo. The name Hikkaduwa is thought to have been derived from the two words Ship Kaduwa, with Ship being the shorter version of Shilpaya which refers to knowledge in Sinhalese and Kaduna which means sword.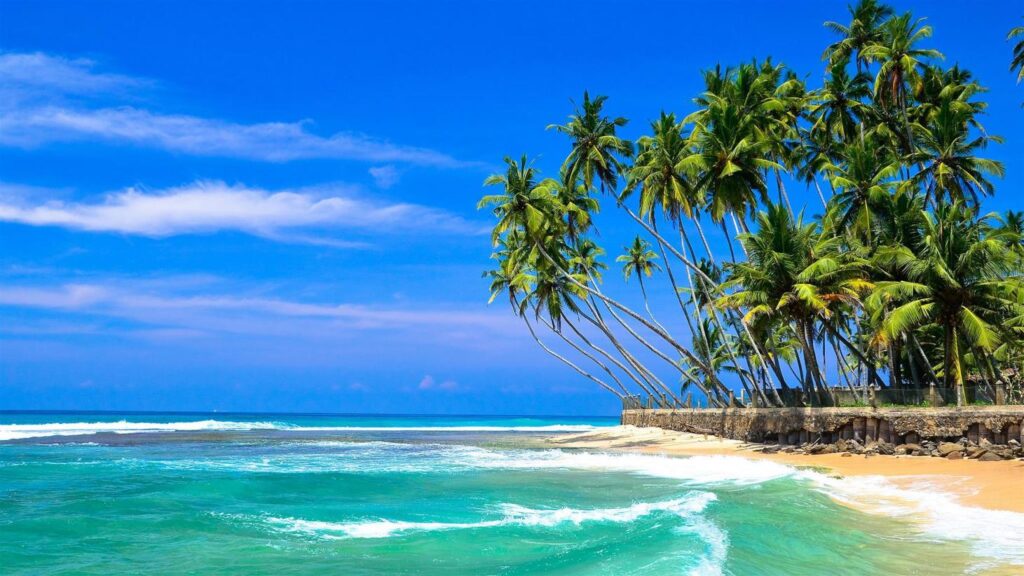 DAY 12 : Beach Break – Hikkaduwa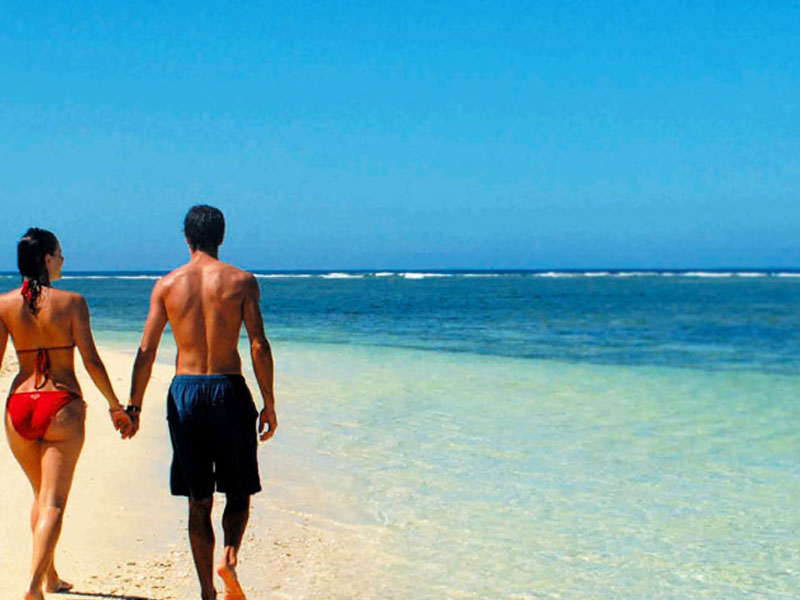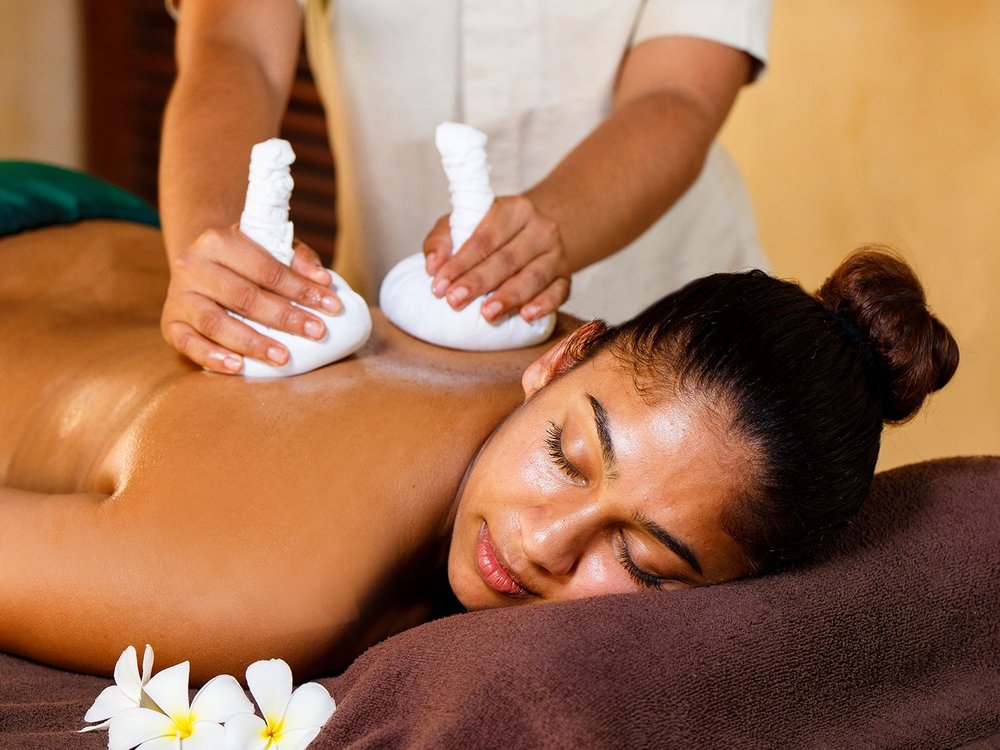 DAY 13 : Hikkaduwa- Colombo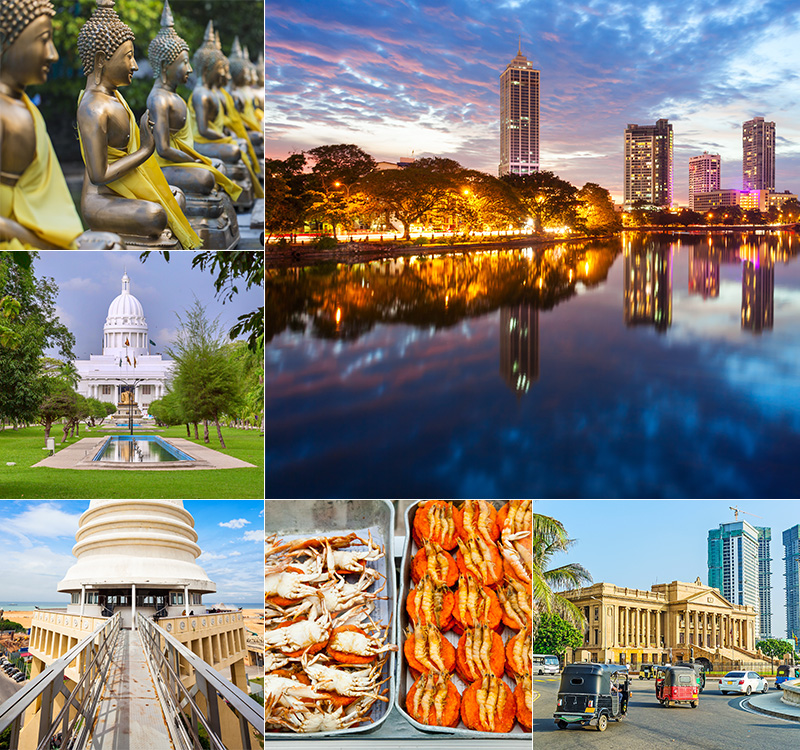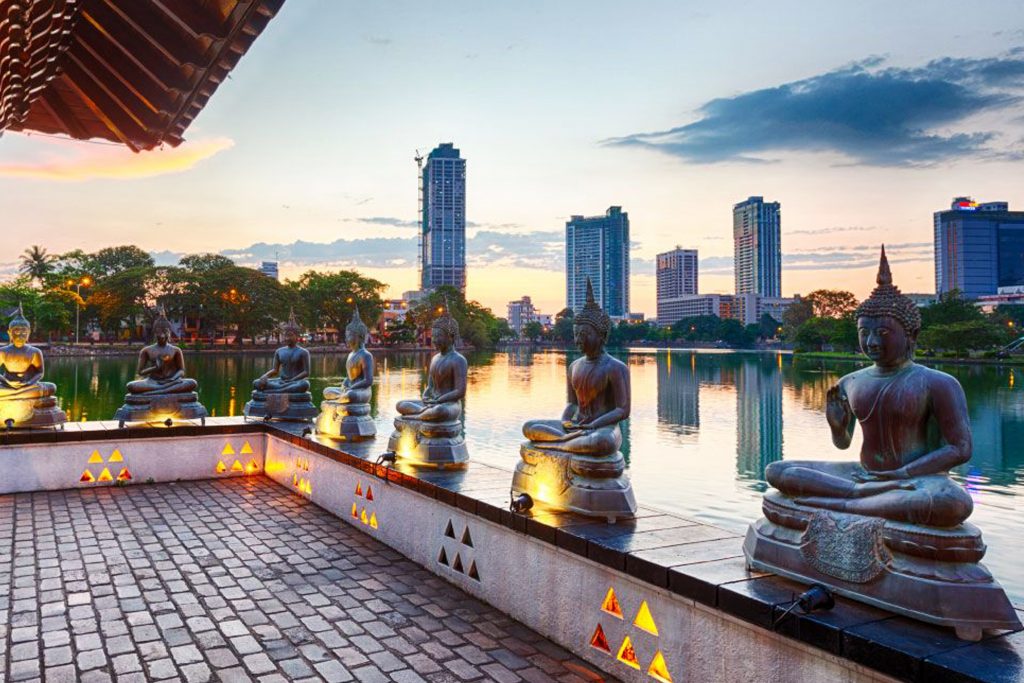 What was once a swamp adjoining the famous Beira Lake, a landmark in the capital city, is today a vibrant complex comprising the Gangaramaya temple, the 'seema malaka' – an assembly hall for monks – in the picturesque Beira Lake and a vocational training institute. The temple has been in existence for over 120 years having been established by one of the most famous scholar monks, Venerable Hikkaduwa Sri Sumanagala Nayaka Thera.
DAY 14 : Explore/Shopping- Colombo
When shopping in Colombo, your options are anything but limiting. From modern, air-conditioned malls to the famously buzzing street markets, there's something for everyone. Knowing where to go is the key to getting the best out of Sri Lanka's shopping haven.
Colombo itself has a fair share of shopping malls and department stores. With everything from the latest pair of shoe & designer jewelry to mobile phones and electronic items, Colombo has an exhaustive variety of things to buy.
No matter how much shopping you do in Colombo, your shopping isn't complete without experiencing the hustle and bustle of Pettah. With almost anything being available in the many narrow streets, you will have plenty of shops to choose from that will satisfy your retail needs. Shops are located in clusters, with specific types of items being sold in each cluster. Although driving through, and parking may be problematic, the entire stretch of shops is located within a "walkable" distance. Whatever you choose to purchase, be sure to polish your bargaining skills, which is important to fetch the best prices.
"Clothing maketh man" goes the saying. Colombo stands strongly by this quote and offers the best of clothes shops and boutiques to suit every conceivable style. Be it office, casual, designer, sports or party wear, Colombo's got it covered. You can shop till you drop.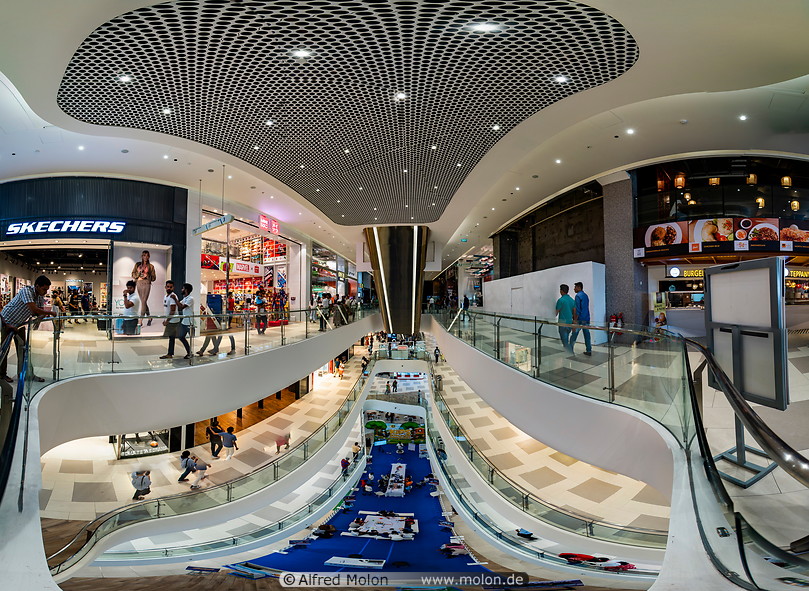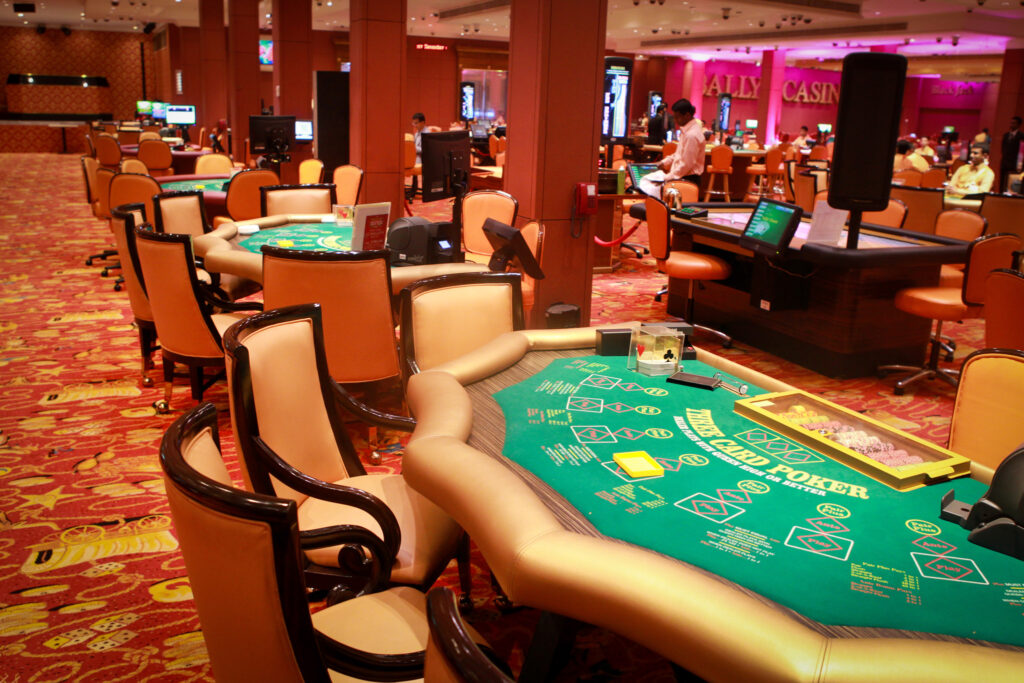 Visit one of the famous Colombo Casinos. You could play Roulette, Poker, Baccarat, and Blackjack to slot games. Enjoy the lavish buffet, any kind of spirits & witness lovely dancing acts while mingling amongst the vibrant & fun-loving crowd.
DAY 15 : Colombo / Airport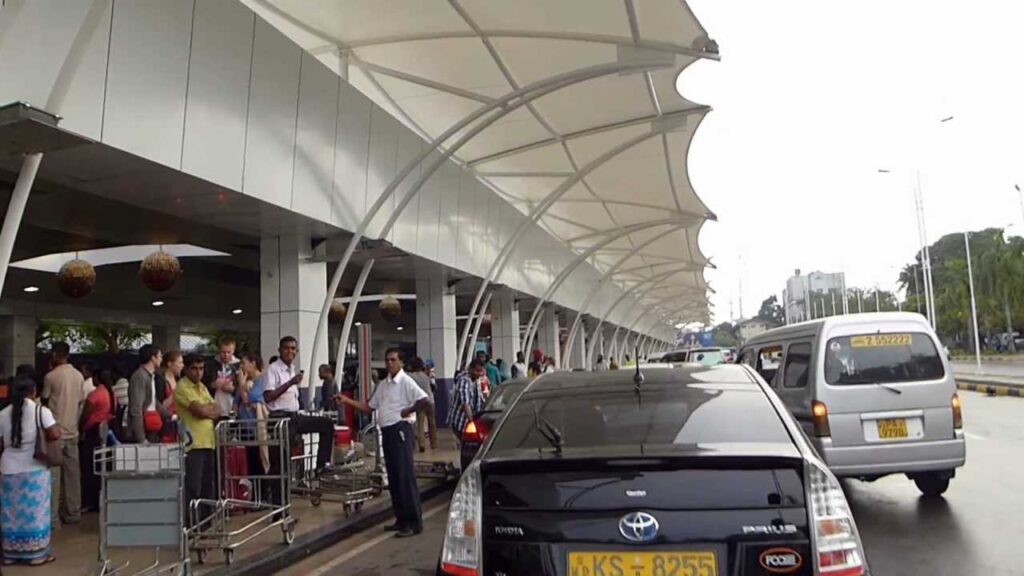 End of Services!
Special Note:
(Please note that the extra bed in a triple room will be foldable and rollaway bed)
The includes:
Does not include:
Other conditions:
Cancellation Charges:
Hotel rules and regulations:
Booking
As soon as possible we get back to you.